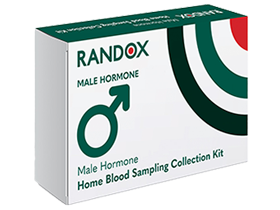 Male Hormone
Home Blood Sample Test Kit to Check Your Male Hormone Balance
1 Home Blood Sample Collection Kit
|
REF:EV4460/Male Hormone Tests
---
Test to detect lower than normal testosterone levels affecting sex drive, sexual function, fertility, and mood.
This product is offered in cooperation with our partner – Randox Health – offering World Class Laboratory excellence.
The test will be dispatched to You by our partner Randox Health.
Male Hormone Test
Hormone imbalance could be effecting your mood, energy levels, libido or sports performance.
Male Hormone Test checks for 3 key areas to give you a comprehensive overview of your hormonal health:
Testosterone
Sex Hormone Binding Globulin
Free Androgen Index
Why get tested?
Male hormones like testosterone support many bodily functions and play a vitally important role in sperm production, a healthy sex drive and maintaining muscle strength & mass. Lower than normal levels of testosterone can therefore result in lack of energy, fatigue, hair loss, low sex drive, erectile dysfunction, anxiety/depression and increased body fat.
After age 30 testosterone levels will begin to decrease naturally. Other potential causes of low testosterone include; alcohol abuse, obesity, uncontrolled diabetes, medication and over training. Whilst it is important to measure testosterone levels, our comprehensive male hormone test will also measure the hormones that help to transport and control testosterone production and levels.
How it works
Collect your blood sample at home. Watch our instructional video




Register your Unique Reference Number (URN) online here
Return your sample to the lab for testing using the pre-paid envelope provided
Results in 2 working days by password protected email
Your personalised report
Easy to interpret Male Hormone Test report will provide a breakdown of your results, what they mean and next steps. Reports will be emailed to the email address provided at the time of registration.
View our

self testing kits