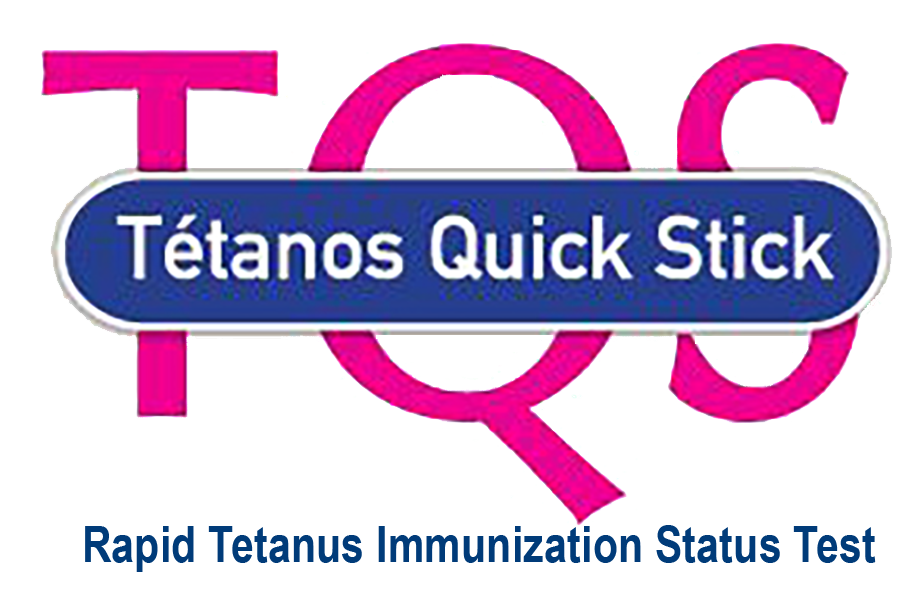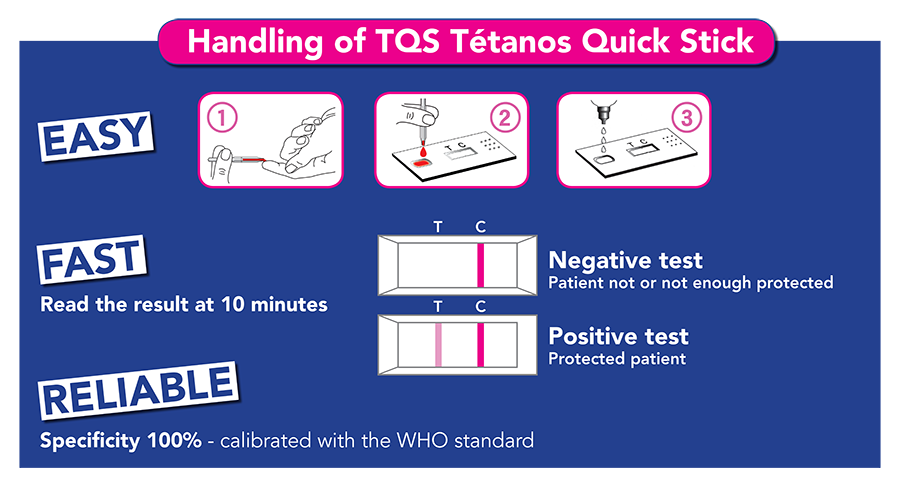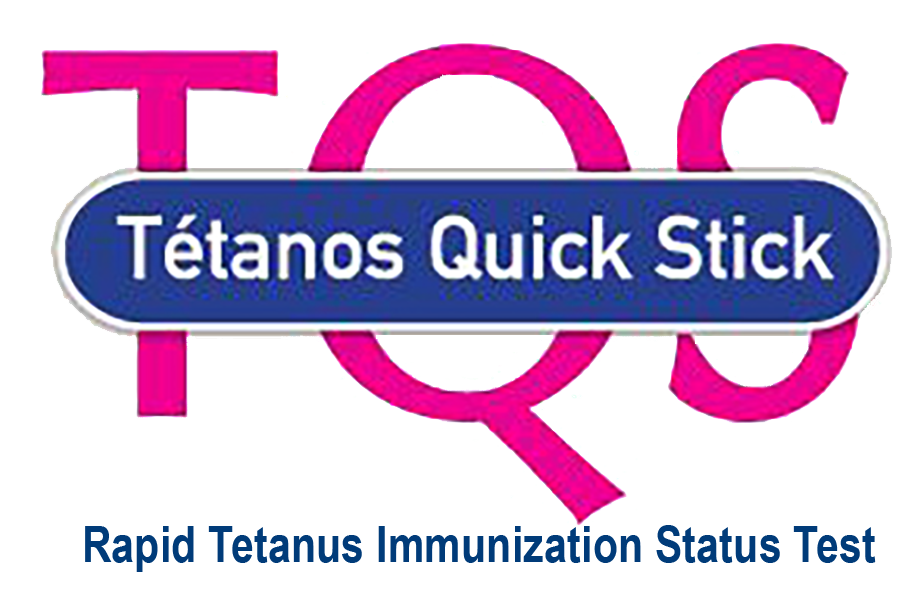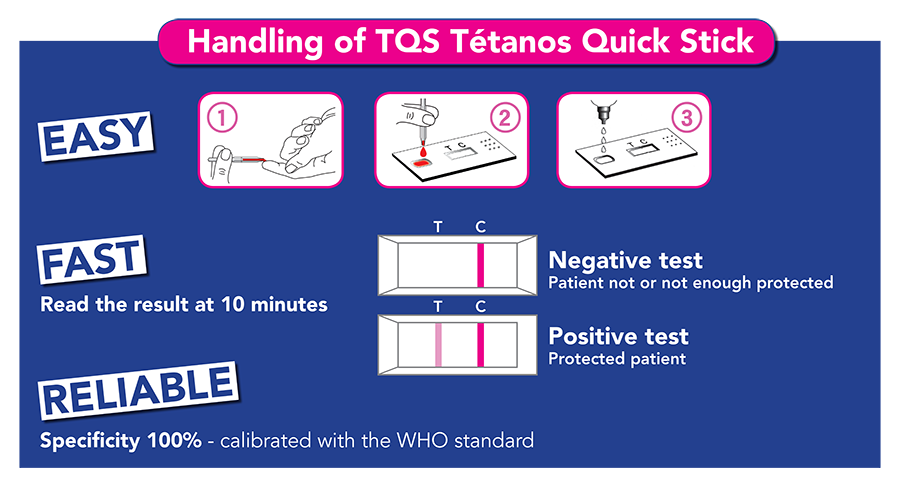 Tetanos Quick Stick
Rapid Immunological Test to check tetanus immunization status
---
TQS is a rapid immulogical test, based on the principle of immuno- chromatography.
Fast result
Easy handling
Reliable answer
Traceability of the result
Tetanos Quick Stick
This method uses a combination of tetanus toxoid coated on the solid phase and a mixture of colloidal gold conjugates including tetanus toxoid-dye conjugate.
The blood, serum or plasma is deposited into the TQS sample well. A diluent is then added to the same well. The diluent flows through the absorbent pad, carrying the toxoid-dye conjugate along the chromatographic strip, forming a complex with the anti-tetanus immunoglobins present in the sample. This complex reacts with the immobilized toxoid in the " T" zone to form a color band.
The excess gold conjugate binds to a control reagent immobilized in the "C" zone, forming a pink band and confirming that the test has been carried out correctly.
When and why should I use Tetanos Quick Stick (TQS)?
For every patient presenting with a tetanus prone
To estimate the vaccination status of your patients
To make the correct informed decision
Traceability of the result
2 labels for traceability per test are supplied in each kit for the purpose of:.
Identification of both the batch and the patient
Traceability of the result.
Simplified Protocol
Pierce the skin with the provided lancet
Put the pipette horizontally into the drop of blood. Don't squeeze the pipette during the pipeting, the blood will go through capillarity until it reaches the black line.
Hold the pipette vertically above the sample wells, put 2 fingers on the black line and press to release the total volume of blood.
Add 3 drops of diluent.
Read the result at 10 minutes.
TQS - Frequently Asked Questions
What is the storage temperature?
The storage temperature is between +4C and +30C.
What is the sensitivity and specificity of the test?

How do I you know that my test result is accurate?
According to WHO standard, TQS has been evaluated with different concentrations of anti-tetanus antibodies (0,025 to 100 IU/ml).
No interference observed with high rates of bilirubin, hemoglobin, albumin and cholesterol or the presence of rheumatoid factor.
Validation of the test was performed by comparison to Elisa test. Evaluation on 865 samples: 289 samples of whole blood, 287 samples of plasma and 289 samples of serum.
Blood test procedure steps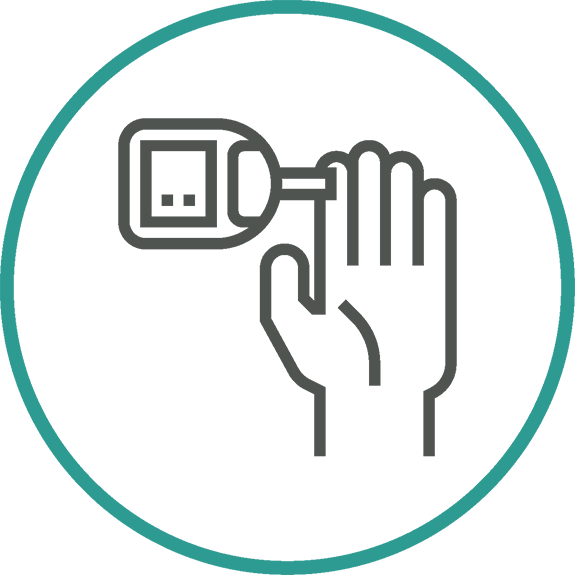 1Simply take a finger-prick blood sample.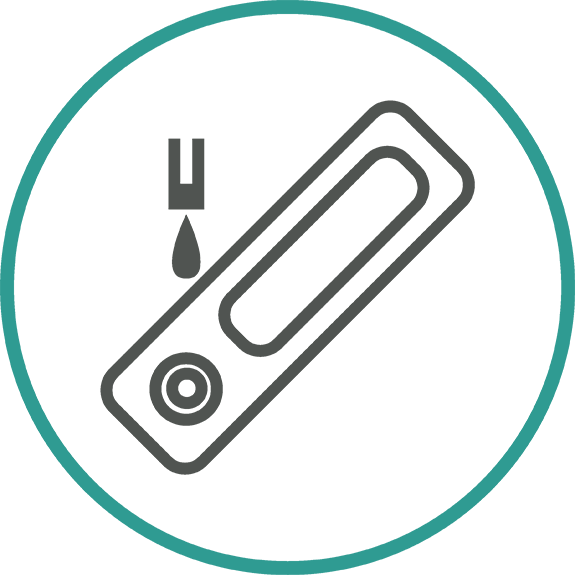 2Add drops of blood to the test cassette.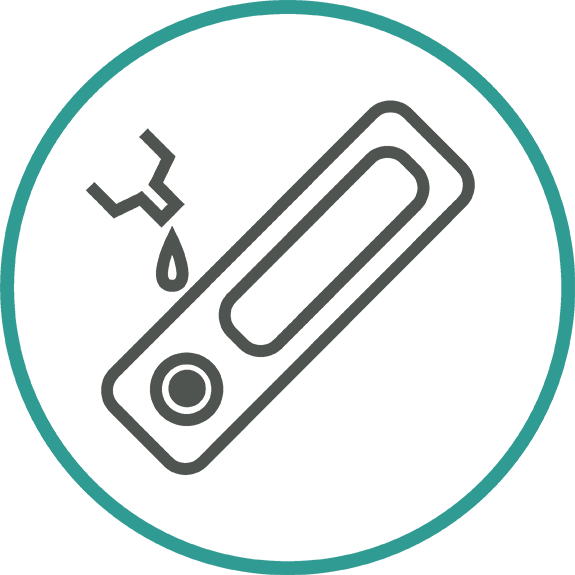 3Then add test buffer solution.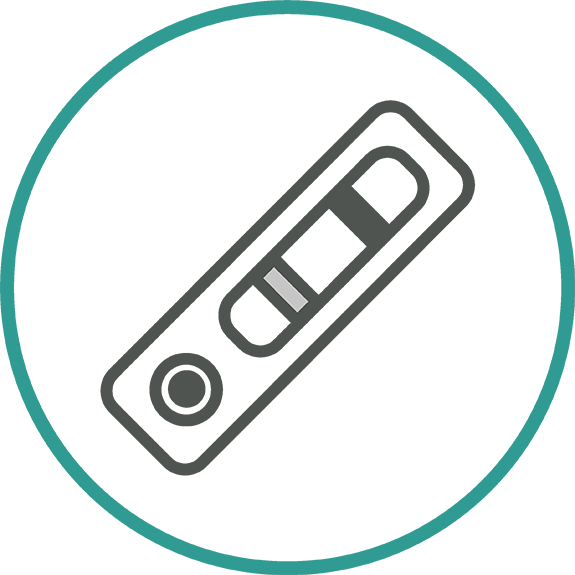 4Wait a few minutes and read your test result.
View our

self testing kits